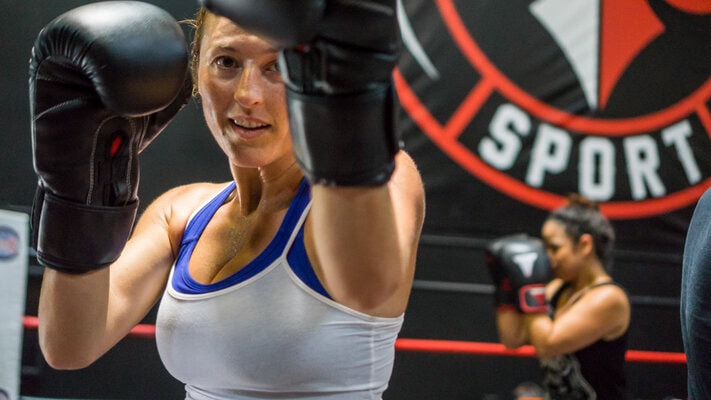 You know the feeling – the weird tingle that makes the hair on the back of your neck stand up.
You're walking alone, maybe down an unfamiliar street, maybe in a parking garage that's too quiet. You have the feeling that you're not alone…
Nearly 45% of women say that they don't feel safe walking alone after dark. Crime can happen anywhere, and it's important to take your safety seriously.
While protecting yourself from assault is one of the more dramatic – but necessary – reasons you should take self defense training, there are lots of other benefits.
In fact, we've got ten great reasons that are going to have you running to book your first class. Keep reading to discover all the benefits you get from self defense training!
1) Safety
Let's start with the easy one – safety. Martial arts and other self defense programs are a good way to feel safer.
You've probably walked with your keys sticking out from between your knuckles. Self defense training gives you another way to fight back if someone tries to grab you or hurt you.
Being assaulted is a worst-case scenario we hope no one ever has to go through. If it does happen, isn't it better to be prepared?
2) Confidence
When you know how to take care of yourself in a bad situation, your ego gets a little boost. Plus, it's great when you feel yourself getting stronger and you go up another level.
Put a little spring in your step – take some self defense classes and give yourself an upgrade!
3) Self-Respect
Many martial arts are based on respect. Respect the teacher, respect your opponent, respect yourself.
Respect makes you aware of how much others do for you – and how much you do for others as well. You'll be so much more in touch with the world and your place in it.
4) Balance
When you hit the gym, how often do you go straight to the elliptical, hit the weights, or both? Ok, now how often do you practice standing on one leg?
Unless you regularly take a yoga class that goes beyond flexibility, you probably don't have a lot of chances to practice balancing.
Along with strength, endurance, and flexibility, balance is recognized as an important skill to develop. For example, it can help protect us from falling as we age.
Self defense training focuses on getting your mind and body to work in harmony. You'll develop your core, a key to keeping balanced.
Learn self defense and you'll learn a skill that serves you now and in the future
5) Be A Role Model
While you're growing stronger, others are noticing. We're not talking about your crush – we're talking about other girls and women.
When they see you standing up for yourself and becoming a warrior, they'll take notice. Maybe they'll see that they, too, can be just like you – strong and confident.
Think about an army of awesome women standing up for themselves and showing the world that nothing can slow them down!
Be a beacon of being badass. Grow confident, grow strong, and inspire others along the way!
6) Insurance
We spend a lot of money on things that supposedly ensure our safety.
We shop for the cars with the highest safety rating. We check out neighborhoods before we settle down and buy a house.
Taking self defense training is a bit like insurance. If something bad happens, you've got a backup plan.
If you've got life insurance, why not take a self defense course? It's a great addition plus it helps you get fit.
Which brings us to our next point.
7) Get Fit, Stay Fit
Self defense training is definitely a workout! There's kicking, punching, ducking, rolling, throwing…
You'll get fit from head to toe if you start an all-encompassing self defense course.
Something like Muay Thai kickboxing gets the heart pumping, fires up your muscles, and gets you in the best shape of your life.
8) Stress Reduction
Speaking of punching, self defense courses are great to keep stress at bay.
No doubt there's been a time in your life when you felt like you would love to punch someone. Why not take that power to the gym?
Get your frustration out and learn a new skill at the same time with self defense training.
Plus, many self defense courses teach you to master your mind as well as your body. This helps you control your emotions and manage your reactions.
9) Improve Your Reflexes
Once you start a self defense course, you'll learn how important your reflexes are. Your awareness will become heightened and your reactions will improve.
This is great when you're in the scary situations we mentioned above. Now if someone jumps out from behind a parked car in a dark garage, you'll know how to react.
Plus, you'll be prepared for whatever life throws your way! Unexpected situations are everywhere. Be prepared and be able to react faster and better!
10) Build Discipline
Want to be disciplined? Take a self defense course.
Having to show up to a class every time, remember movements, and diligently practice are keys to building discipline.
Discipline not only helps you on the mat and in the gym, it's one of the best skills you can develop in life. Being disciplined is the beginning of meeting and exceeding your goals.
If you can be fit, improve your safety, and learn to be more disciplined, there's really no downside!
Ready To Take Self Defense Training? Start Today!
If you're ready to hit the ring, get fit, and improve your safety, then we've got the perfect course for you: Muay Thai.
This ancient form of kickboxing is a great workout that teaches you how to protect yourself in a bad situation. You'll build the body of your dreams while learning how to take care of you and your loved ones if you're attacked.
Take control of your life from top to bottom and join a Muay Thai class today!
If you enjoyed today's article, you'll also enjoy this one on 5 reasons why Muay Thai is a good solution for bullying.