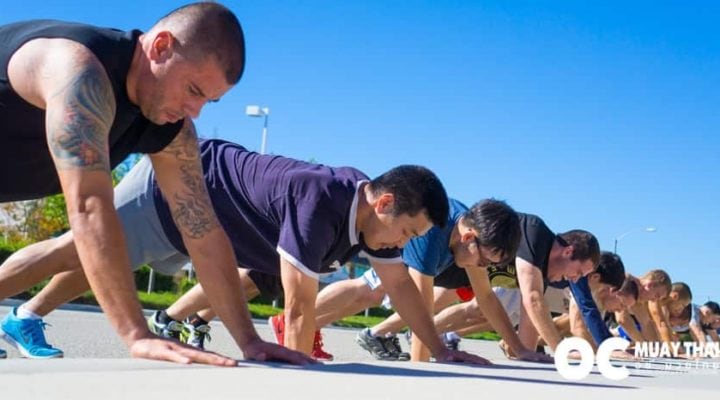 What's your New Year's resolution? Is it to eat healthier, read more, or travel the world?
According to a survey, the most common New Year's resolution is to get fit and healthy. But only eight percent of people actually reach their goal.
Why do they fail? The reason is simple. They pick the wrong workout plan and lose their motivation.
But your 2019 fitness plan isn't doomed to fail. Not if you choose boot camp exercises.
But what is a boot camp style workout? Who can join the program, and how do boot camp exercises work? Read on to find out.
What Is a Bootcamp Style Workout?
A boot camp style workout is an intense exercise routine that challenges every muscle in your body. Each set leaves you breathless, and you don't get a lot of time to rest between sets. As your body has no time to relax, you'll burn massive calories.
Boot camp workout routines take their inspiration from the old practice of "fat camps" for kids. But unlike those unsuccessful "fat camps," the goal isn't only to lose weight. It's to get strong and healthy – and STAY strong and healthy.
These workouts can help you achieve these things not only through training but through education on proper dietary intake too. They also motivate you to keep up the routine and ditch your bad habits.
There are bridal boot camps, military-style boot camps, and even prison-style workouts. Boot camp exercises come in different formats. But the main approach stays the same.
They combine a series of strength exercises, such as lunges, squats, and push-ups, with heart-pounding workouts. They do this through bursts of intense activity with periods of moderate activity.
Who Can Join Bootcamps?
Who can try out boot camp workouts? There's no discrimination in a boot camp. Whether you're strong, weak, male, female, old or young, you can reap the benefits.
If you want to lose weight, you can join a boot camp. Even if you have health issues, the exercises can be adjusted to meet your individual needs.
How Can Boot Camp Exercises Kick You into Shape?
A boot camp style workout gets you moving constantly. You can expect to burn at least 600 calories per session.
But how does it work?
It's a Full Body Workout
Boot camp workouts include a wide range of exercises. Let's see a few examples:
Running
Jogging
Push-ups
Sit-ups
Chin-ups
Lunges
Squats
Planks
Jumping jacks
Resistance training
These movements provide intense workout working your body from head to toe. As a result, you'll improve your fitness in a short period of time.
You Burn Massive Calories
The exercises in boot camp workouts are generally aerobic. Military boot camps focus on elevating your heart rate. Weight loss boot camps use cardio exercises to get your heart pumping.
According to a study on the effectiveness of boot camps, the average person burns 9.8 calories per minute.
Not only will you be losing weight, but also build muscle and boost your metabolism. It's a win-win.
It's HIIT
The combination of aerobic exercise and strength training gets the heart rate high enough that it qualifies as HIIT.
HIIT is high-intensity interval training. It's a proven way to lose weight and build lean muscle. During a typical HIIT workout, the average heart rate must be 80 to 85 percent of your maximum heart rate.
The above research on the effectiveness of boot camps found that these workouts qualify as HIIT. The study indicates that the average heart rate was 77 to 91 percent. This means that participating in a boot camp almost guarantees fat loss.
You Can Target Specific Muscle Groups
Boot camp workouts provide a full-body workout. However, you can still focus on your problem areas and choose the type of activity you enjoy the most. For instance, some weight loss boot camps focus on strength exercises; others emphasize high-intensity training.
Most boot camp exercises work several muscles at once. This approach helps increase your metabolic rate and boosts your overall conditioning.
Let's take push-ups, for example. This compound movement targets the chest, back, shoulders, and arms. By maintaining a rigid posture throughout the sets, you can strengthen your core as well.
Boot camps can improve your cardiovascular performance as well as your endurance and muscle tone. They also enhance your coordination and balance.
There are few exercises where you can tick so many boxes in such a short period of time.
It's Functional
Unlike traditional weight training, boot camp workouts help you learn how to carry your body correctly.
This functional training method prepares your body for real-life activities, such as climbing the stairs, lifting groceries, or even picking up your kids.
It Increases Flexibility
Before and after your boot camp style workout, you will need to stretch.
Before you start the exercise, warming up helps prepare your muscles for the workout ahead. After exercising, stretching prevents muscle tension. Skipping this part can lead to muscular fatigue, soreness, and injuries.
Some boot camps will include a short yoga or pilates session before and after each workout. This will help you become more flexible and improve your balance.
The After Burn
Not only will you torch fat, but also experience the after burn. The technical term is "Excess Post-Exercise Oxygen Consumption" or EPOC. Basically, your body will continue to burn calories long after you've finished your workout.
How so? When you're taking part in intense activities, your body consumes more energy and oxygen. After you've stopped exercising, it burns more energy to recover and repair damaged tissues.
To maximize the afterburn effect, you need to do HIIT. And what's great for high-intensity interval training? Boot camp workouts, of course!
The Benefits of Boot Camp Workouts
Not only is a boot camp style workout efficient in helping you lose weight, but there are also other benefits. And the best thing about these perks is that they can motivate you to keep it up!
It Beats the Boredom
Nothing screams monotonous like running on a treadmill. This boring workout isn't going to prompt you to head back to the gym anytime soon.
Boot camps are anything but dull. During a boot camp workout, there is no time to lose. This approach allows participants to become physically and mentally involved in the workouts.
The fun factor will increase the probability of sticking to your workouts in the long run.
You Get Educated
Weight loss boot camps are not just a temporary fix. The goal is to educate participants so they embrace a lifelong fitness plan. Each class will differ, but many coaches use a part of the class to talk about nutrition and diet.
This approach allows students to learn how to lose weight in a safe way and continue their routine for good.
Enjoy the Team Effort
Another benefit of boot camp exercises is the team atmosphere. You're never alone in a boot camp. You have your trainer and your fellow teammates at your side.
If you feel like you can't finish that last set, your team can motivate you – and you can do the same for them. With a small spirit of competition, you'll feel pushed to keep up with the rest. This positive atmosphere will motivate you to do better.
It's Simple
Unlike many exercise types, boot camp workouts don't require a lot of equipment. During some sessions, you may need free weights, resistance bands, or dumbbells. The facility will usually provide them if they're part of the workout.
This means that after you finish a boot camp workout, you can continue it at home. You won't need to worry about having to buy expensive equipment.
Boot camp exercises can be done anytime, anywhere. You don't need to be in a gym to keep fit. You can work out at home or in a park if you prefer.
The simplicity of a boot camp means you're more likely to maintain the program on a continuous basis.
It Builds Confidence
At the end of each boot camp session, you'll feel sweaty yet satisfied! Knowing that you've completed such a challenging workout will give your confidence a huge boost.
After taking part in a weight loss boot camp, you'll not only look good but also feel great.
Drop Down and Give Me 20!
As you can see, boot camp exercises are no walk in the park. They're intense and challenging but can drastically improve your health and fitness levels in a short period of time.
If you've completed your first boot camp style workout, your muscles are going to feel wiped out. What can you do to relieve your sore muscles? Click here to find out!