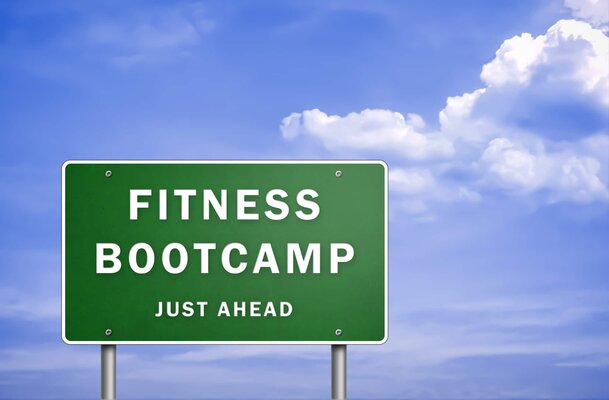 Shockingly, more than one in three American adults are suffering from obesity. So, it's not surprising the demand for bootcamp workout sessions have never been greater!
If you're thinking about booking onto a program, you'll probably want to know the kind of results to expect.
Continue reading this blog post to find out how quickly you'll see a difference, and how you can make that happen.
Let's dive on in!
1. What Are Your Goals?
Each person's fitness and weight loss goals are different. Once you get a better idea of what you want to achieve, the trainers at your boot camp can help you out.
Whether you want to get fit or lose weight to look your best for bikini season; with a little determination and encouragement, you'll be able to smash your goals.
2. Know Your Body
A boot camp will give you a better grasp of how your body works. This is key to losing weight, quickly. By this we mean, an insight into how you best burn your calories.
From there, you can work out how many calories you're able to eat without gaining weight.
It's a sad fact of life that some people can burn off more calories than others, and therefore eat more without any drawbacks. Yes, this is unfair. However, it's something we need to understand and appreciate if you want to move forward with your personal weight loss goals.
The quicker your metabolism, the faster you'll burn the calories you consume. How your metabolism functions relies primarily on your age and your activity levels.
Obviously, you don't have much control over the former, but when it comes to the latter, participating in a boot camp will most certainly help get your metabolism in check!
3. Build More Muscle
If you want to lose weight, you need enough muscle, because, on the whole, muscle burns more calories than fat.
On that note, it's vital you take note of how much muscle you have to begin with. This information will give you a way better idea of how quickly you'll see the results of your boot camp.
On average, one pound of muscle burns an additional 50 calories per day, just while you're resting! By that math; gain ten pounds of muscle, and you'll burn an extra 500 calories each day, without even doing anything!
A good quality boot camp will help you to assess which muscle groups need developing to help you burn calories more efficiently. These usually include the back and legs.
If you're new to the fitness space, it's still possible to put on muscle mass, within the first month it's quite common to gain as much as two and a half pounds!
Although this won't reflect on the scales, your body will start to look beautifully toned, and in the long term, you'll burn fat way quicker.
4. Consistency Is Vital
One of the reasons people don't achieve their desired results from their workouts is because they don't exercise consistently.
The last thing you want to do is one heavy workout and then take five days off. In reality, it's better to fo a workout that incorporates all the right exercises, in just an hour, and repeat this once every couple of days.
This is way more effective!
5. A Range of Exercise
As you may already know, high-intensity workouts provide a ton of benefits for both your health and fitness levels. You can get some fantastic results in a relatively short time frame.
In addition to high-intensity exercise, fitness boot camps encourage people to get enough sleep and to take their suggested rest periods. This is essential to get the best results in the quickest amount of time.
Boot camps also urge you to participate in lighter workouts during the week (or for, however, long your program is). It's essential you follow this advice because you'll continue to boost your fitness rates while allowing your body to recover- what's not to love about that?!
6. Diet Is Important
If you want to progress in the quickest amount of time, you'll need to eat a healthy and balanced diet that encourages your body to build muscle and recover after heavy duty workouts.
Top Tip: Eradicate processed sugar from your diet; these foods are the worst for creating fat. Plus, we highly recommend sticking to meals that are high in protein.
Protein helps to keep you fuller for longer and encourages muscle mass- win-win!
How Long Will It Be Before I See Results?
Luckily for you, you'll be pleased to hear you won't have to wait a massive amount of time before you see a visible improvement.
If you follow your instructors and stick to the diet plan, you should see results as quickly as three to four weeks!
To put it crudely, the larger you are, the quicker you'll lose weight and in more substantial amounts (in comparison to someone who works out regularly).
So your results will massively depend on your weight, age, and fitness levels. Your boot camp instructor should be able to give you a more accurate estimation.
Did You Enjoy This Blog Post on Bootcamp Workout Results?
If you liked this article on Bootcamp workout results, then we're confident you'll love the other features we've published on our blog.
Over there we discuss everything from meditation best practices to a beginners guide to boot camp classes. Enjoy!
Alternatively, if this blog post has inspired you to try a fitness boot camp, please feel free to book onto one of our training programs, we'd love to have you on board!