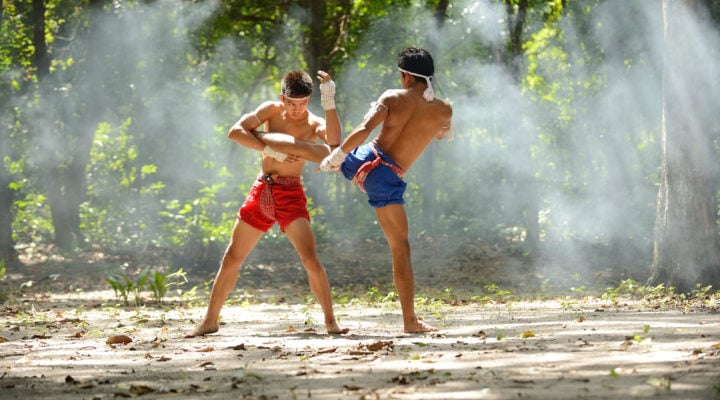 Muay Thai is a martial art that focuses on using all your limbs to fight an opponent. Muay Thai is sometimes called the 8-limb martial art because it incorporates striking with both legs, both arms, both knees, and both elbows, which adds up to 8 potential weapons to use against an opponent. It originated in Thailand in the 18th century and has since become a national sport.
Muay Thai is a nuanced martial art based on precise technique. Once you've mastered the basics of the individual techniques, you can focus on your fighting style, which depends on your body type, strength, and which techniques you can perform with the most precision.
Wondering which Muay Thai fighting style is right for you? Read on to learn about each fighting style Muay Thai has to offer and which style works for each type of fighter.
Where Do Muay Thai Fighting Styles Come From?
As with most martial arts, Muay Thai's most recognized fighting styles are associated with prestigious Muay Thai fighters and teachers who have passed on their skills to students.
Each of these fighters/trainers is a master of Muay Thai techniques. They combine those techniques in specific ways to create a personal fighting style.
These masters then teach their specific fighting style to their students. Amateur and professional Muay Thai fighters will often train with multiple instructors to learn different fighting styles. As they learn, they begin to determine which styles work for them and hone their fighting style.
Here are some of the most well-known Muay Thai fighting styles:
Muay Tae
Fighters who choose the Muay Tae fighting style use their kicks to devastate their opponents. They use every style of kick that Muay Thai has to offer to systematically break down their opponent, one body part at a time.
Muay Tae style fighters will often choose a single part of their opponent's body to focus on with their kicks. Some like to focus on damaging their opponent's lead leg to throw off their balance and ruin their stance. Others like to focus on landing body kicks to take the wind and will out of their opponents.
Fighters who use the Muay Tae style are masters of managing distance. They stay on the outside and move in only to land devastating blows. They use their kicks and their legs to keep their opponent exactly where they want them. They use a kick called a teep to hold their opponents back.
These fighters will use their hands, knees, and elbows when they're in a position that calls for these strikes, but they prefer to keep their distance and control the ring.
This style works great for people with long, powerful legs. It requires speed and excellent spatial awareness.
Muay Mat
Brawlers will love the Muay Mat fighting style. This style relies on powerful punches and kicks, aggressive forward motion, and fearlessness.
The Muay Mat fighter likes to close the distance through force. They use long punches and kicks early on to gauge distance before advancing aggressively, never taking a backward step if they can help it. The goal is to overwhelm the opponent, driving them backward with heavy hits.
Because this style is so aggressive, it requires the ability to take a hit. When you're constantly coming at your opponent, you're going to take some hits. The point is to take one hit and give back three.
These fighters are tough as nails. Though they are usually strong, they don't rely on their strength to overwhelm their opponent. They rely on precise, powerful techniques and willpower. 
Muay Mat is a great style for people with muscular builds. It's also an ideal style for fighters who are shorter and don't have a reach advantage.
Muay Khao
The most devastating strikes in Muay Thai are strikes with the knees. A knee to the chest will knock the wind out of an opponent. A knee to the stomach causes your opponent to double over, leaving their head open to strikes. And a knee to the face will almost always end the fight.
Fighters who love to use their knees study the Muay Khao fighting style. Muay Khao focuses on using the clinch to close the distance so the fighter can land knee strikes on their opponent.
The Muay Thai clinch is a powerful control position used to throw the opponent off balance and make it easier to land strikes. The fighter grabs their opponent behind the neck using both hands. Then they pull on the neck, using their strength to break the opponent's posture, disrupt their balance, and open up certain parts of the body for strikes.
When a Muay Khao fighter secures the clinch, they immediately start using their knees to strike their opponent's torso. They knee the ribs, the stomach, and the chest. If they can break their opponent's posture, they use their knee to strike the face.
Fighters who use the Muay Khao fighting style have to be able to maintain the clinch to land the knees, which requires a lot of arm strength. They also need incredible balance so the clinch doesn't work against them, causing them to lose their balance.
Muay Khao is a great style for people with strong, muscular builds. People who are short and stocky usually love the Muay Khao style because they can close distance, maintain control, and fight inside.
Muay Femur
Muay Femur is considered the ultimate Muay Thai fighting style. Fighters that use this style are masters of the Muay Thai techniques.
This style combines all the techniques Muay Thai has to offer and uses them with incredible precision.
These fighters like to fight at a medium distance, which allows them to use any of their eight weapons as the situation requires. They don't aggressively bully their way forward. Instead, they close the distance with speed and footwork. Their dodges and counterstrikes are as good as their offensive strikes.
This kind of Muay Thai fighter is here one minute, there the next, and striking you before you can figure out where you are. This style requires speed, stamina, and years of training. Most fighters don't employ this style until they are masters themselves.
Finding the Muay Thai Fighting Style That Works for You
Now that you know about the popular Muay Thai fighting styles, you're probably wondering how to choose which one works for you. The best way to find the Muay Thai fighting style that will work for you is to train a lot in Muay Thai.
Your body type, your strength, and your technique can help you narrow down which style might work for you, but you'll only discover what works for you by training frequently.
The best way to get a crash course in Muay Thai is to attend one of our training camps. Fill out the contact form on our site to get all the information you need today.