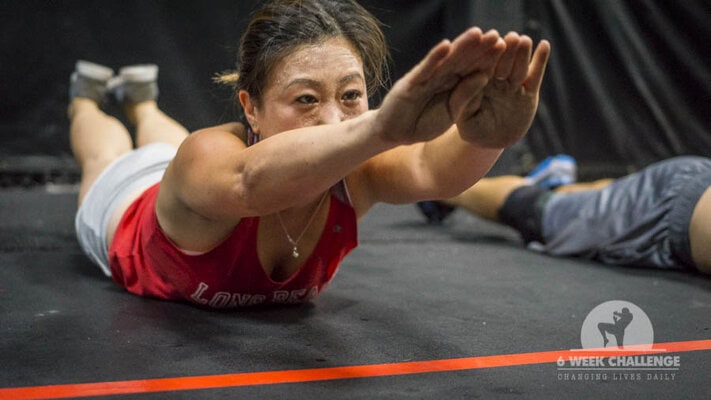 Your first day of boot camp fitness was great, but the morning after… not so much.
It's hard to get into a rhythm with your workout routine if you wake up stiff, sore, and unable to get out of bed the next day. While you might not be able to avoid getting sore, there are a few ways you can help your body heal faster.
We've put together this detailed guide to show you what muscle soreness is and how to relieve sore muscles after an intense boot camp workout.
So stay tuned and keep reading below.
Why Do Our Muscles Get Sore?
Getting sore doesn't mean you're out of shape.
Anyone can experience sore muscles, even trained athletes. So then what causes our muscles to get sore?
Getting sore muscles after doing some kind of physical activity is called DOMS, delayed onset muscle soreness. People can get DOMS if they start a new workout routine, try a new type of physical activity, increase the length and intensity of their exercise, etc.
When you use your muscles in new ways, you create microscopic damage to the muscle fibers. This causes your muscles to feel stiff and sore.
But don't worry. This type of soreness is normal.
Who Can Experience DOMS?
Again, anyone can suffer from sore muscles.
That said, people who don't do a lot of physical activity might experience DOMS more often. This is simply because their muscles aren't used to the new movements.
The more you partake in that new activity, the faster your DOMS will go away. The soreness is only a temporary pain. Once your muscles get stronger, you won't feel sore at the end of the activity.
How Long Does DOMS Last?
In most cases, DOMS doesn't last long.
You can start to feel sore one to two days after your physical exercise. The pain tends to fade after three to five days.
Depending on the type of activity you do, you can experience mild, moderate, or severe DOMS. But remember, this type of pain is normal.
Should I Ever Visit a Doctor About Muscle Pain?
You shouldn't have to visit a doctor for your sore muscles. Your DOMS will go away on its own most of the time.
If you feel like something more serious is going on, you might want to make an appointment with your doctor.
Here are a few things to keep an eye out for:
The pain lasts longer than a week
The pain gets worse throughout the day
You experience a dramatic loss of movement
The soreness is accompanied by severe pain and swelling
You can't put weight on the sore joint
The pain starts in your lower back and spreads to your legs
The sore area looks deformed
You're experiencing other symptoms, like morning stiffness, fevers, and numbness
Give your doctor a call if you're dealing with any of the above problems. In these cases, it might not go away on its own, and waiting will only make it worse.
5 Ways to Prevent Muscle Soreness
Boot camp fitness is a good way to exercise every part of your body. That means boot camp has the potential to leave you with some pretty sore muscles.
But there are a few things you can do about that.
Keep reading to learn six things you can do before and after your boot camp workout that'll help prevent DOMS.
1. Get a Massage
Getting a message after a workout can speed up your recovery time and improve your muscle strength. But paying for a professional massage every time can get a little pricey.
Instead, buy yourself a foam roller.
This will let you massage your muscles after a boot camp workout yourself. If you aren't sure how to use one, spend some time researching. There are a lot of guides out there that'll teach you the best moves and techniques.
2. Eat the Right Food
Your muscles use up their stored glycogen and energy carbohydrates after your workout. You need to eat foods that are high in protein, fats, and other nutrients to restore these things after boot camp fitness.
The best time to eat this food is between 30 and 60 minutes after your workout.
Protein shakes are a good option for a lot of people. Your body is able to absorb nutrients easier when they're in a liquid form. Shaking up a protein drink is often faster than preparing a meal.
3. Stretch
Don't skip warm-ups or cool-downs. These lower the likelihood of pulling a muscle or getting any other type of injury. These stretches are just as important as the workout itself.
Stretching will also increase your range of motion. That means you'll recover from your workout faster.
Make sure you hold your stretch for 30 to 60 seconds on each side. If the stretch is difficult or painful, focus on breathing slowly and deeply.
4. Get Plenty of Sleep
Your body goes through several different processes when you're asleep that speed up your recovery time. So make sure you get plenty of sleep after your boot camp workout.
As you sleep, your body repairs itself.
If you can fit sleep into your normal schedule, take at least one 15 to 20-minute nap a day. A quick nap will benefit your blood pressure, heart rate, weight management, and stress levels.
Take more than one if you can.
6. Do Some Self Care
Self-care isn't selfish. It can actually an important part of a healthy lifestyle.
One of the benefits is a faster recovery time after a hard workout.
So when you get back from the gym, take a relaxing bath, watch your favorite movie, hop into bed, spend some time meditating. Do something that'll help you relax and de-stress.
How to Relieve Sore Muscles
No matter what measures you take to prevent DOMS after your boot camp workout, you might still wake up the next morning with sore muscles.
While this discomfort will go away on its own in a few days, there are a few things you can do to speed up your recovery.
Keep reading below to learn how to relieve sore muscles.
Stay Hydrated
If you're dehydrated, the symptoms of DOMS will be worse. One of the quickest and easiest ways to reduce muscle soreness is to drink a lot of water.
Staying hydrated will reduce your pain and allow your muscles to heal faster.
Eat Foods Full of Protein
Protein is full of nutrients that help build and maintain your muscles. This makes it a central part of the muscle recovery process.
You don't have to overstuff yourself with protein foods.
Just take a closer look at your diet and make sure it contains foods that are high in protein. Aim to eat about 2 grams of protein per kilogram of your body weight.
Keep Moving
When you're dealing with sore muscles, moving is one of the last things you want to do. But sitting on the couch for the entire day is a bad idea.
Why?
Easy movement increases your body's circulation. This helps blood flow through your body and heal your muscles. If you stay sitting in one spot, you don't experience this same type of blood flow.
That means your muscle will stay stiff and sore for a longer period of time.
But this doesn't mean you have to jump back into your normal workout routine. Focus on light movement. Take a short walk or do some basic chores around the house.
Do Some Light Stretches
When you stretch out your muscles, you're releasing tightness. This can improve your range of motion when you're muscles are stiff and sore.
While this makes you feel better, it doesn't necessarily help you recover any faster. So don't push yourself.
Stick to light and easy stretches. If you try difficult stretches, you might make your muscle soreness worse.
Try Heat and Ice Therapy
When it comes to heat and ice therapy, you should do what feels good to you.
Icing sore muscles can help bring down any swelling, which helps relieve the pain. But ice can also create extra tension, so you might want to elevate your sore limbs as well.
Heat can reduce pain and tension. Taking a warm bath might be a good idea if you're dealing with extremely sore muscles.
How to Relieve Sore Muscles After Boot Camp
Boot camp fitness works almost every part of your body. If you're not used to this type of exercise, boot camp can leave you with some stiff and sore muscles.
But remember, this pain is normal.
As you're looking for how to relieve sore muscles, think about things you can do to prevent DOMS and what you can do to help your muscles recover if they're already sore. This can include warming up and cooling down, eating the right foods, staying hydrated, getting a good night's sleep, and staying active.
Are you looking for a quality boot camp fitness program?
Make sure you take a look at why our boot camp workout is good for you. If you're ready to get started, sign up here!