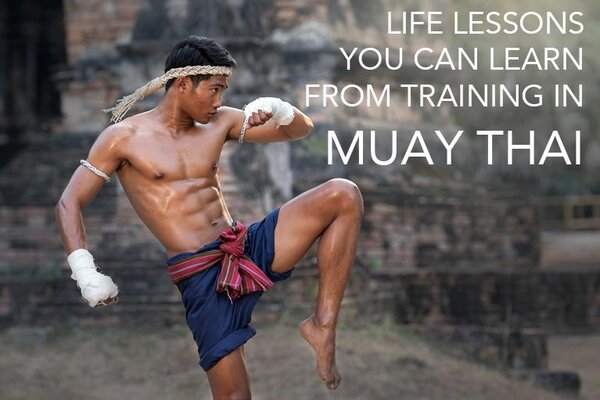 Sports can teach us some much about life. Training in Muay Thai is no exception.
There are some things in life that parents can't teach. They can talk about them, but that can't truly be learned unless they are experienced.
For example, a parent can talk to children about handling a loss, but until that's experienced by the child, it's only words.
You may already be familiar with the physical benefits of training. There are other important lessons that go beyond the training gym. They can be applied to any area of life, whether you're a kid just learning about life or an adult who's the head of a large company.
Do you want to know how Muay Thai can impact your life beyond the gym? Read on for the top life lessons from Muay Thai training.
Leadership Lessons from Muay Thai
What is leadership? There are thousands of books on this topic and they all have different definitions. The most simple one is to motivate a group of people to achieve a common goal.
If you're thinking that you can't learn leadership lessons from an individual sport like Muay Thai, think again. Even the great martial artist Bruce Lee had leadership lessons.
In Muay Thai, there are opportunities for students to demonstrate their skills. They also teach other students how movements are performed. That's important for kids to learn early. It gets them out of their shell and shows them how to speak out and help others.
Here's another example. Let's say that you took up Muay Thai as a form of self-defense and a situation arose where you're in a group and an in an emergency situation. Your training has given you the skills and confidence to know exactly what to do in that situation.
You automatically turn into a leader and guide the group to safety.
Training in Muay Thai Gives You Optimism
People can often confuse optimism and confidence. Confidence is believing in yourself. Optimism is being hopeful about situations and in the future. It's believing that there's good in everyone and every situation.
Muay Thai training teaches you your strengths and weaknesses. But rather than laughing and pointing at your weaknesses, you're taught to embrace them.
If you can embrace the weaknesses within yourself, you can easily to that with others. You can see the good in them and know that they're doing their best in the world, just like you are.
Discipline Isn't a Bad Word
How many times have you said you didn't do something because you didn't feel like it? There are always days when you don't feel like
Discipline is a muscle that needs to be exercised just like your biceps.
There are days when you don't want to go to training, or work on a project or make that important phone call.
With Muay Thai training, you learn to show up to training when you don't feel like it. Not only that, but you also learn to bring your best, even on the days when you don't feel like it. Training in Muay Thai requires not only that you show up, but you are mentally present.
That level of discipline can also carry over to your nutrition, too. Many adult students train in Muay Thai to lose weight and get in shape.
Even though they train hard, they still have plenty of decisions to make outside the gym to support their weight loss goals.
That requires discipline, especially when you are surrounded by cakes and other goodies at home or in the office
Lessons Learned Through Failure
In our culture, winning is everything. You hear quotes all the time like "No one remembers second place."
That puts tremendous pressure on adults and children to win at all costs. What if the win is in improving or learning how to accept defeat?
This is a powerful lesson for anyone to learn. During life's journey, we're all bound to experience some sort of loss or failure. It's how we learn to respond to the failure that makes you a better, stronger person.
Training in Muay Thai helps you understand the difference. Training is about improving yourself and making yourself better, not how you're doing compared to others.
This is a lesson that can take someone far in life. A student who's an entrepreneur can learn to deal with a business failure.
A child who's just learning how to lose can accept that it's about the journey, not the destination.
Learn Social Skills in Muay Thai Training
This is important for kids and adults. Training will promote social skills by putting students in environments where they have to interact and learn from each other.
Training in Muay Thai exposes one's weaknesses and strengths. This can happen in front of other students, which can be a nightmare for some people.
Muay Thai training forces students to be vulnerable and get out of their comfort zones as they work through and embrace their weaknesses.
Develop Confidence and Self-Esteem
In Muay Thai, you have to make snap decisions to be successful. The more often you make these decisions, the more you'll learn to trust yourself.
The more you trust yourself and your decision making, the more confident you get in yourself.
There's also something about being in the best shape of your life and confidence. Knowing that you can take on anything or any situation will make you attractive to others. That will boost your confidence as well.
Your training will also give you the skills to defend yourself in potentially dangerous situations.
Are You Interested in Training in Muay Thai?
There are so many benefits to training in Muay Thai that improve your physical and emotional well being.
OC Muay Thai was founded by David Jansson and has been serving the OC, San Diego and Los Angeles areas since 1999.
What started from an inspiration from watching a broadcast of the "Thrilla in Manilla" grew into a lifelong love and passion for boxing and evolved into Muay Thai. His warm and welcoming approach to teaching has turned into the top beginner's Muay Thai classes in the area.
Start learning from the top school today. Sign up for your next Muay Thai class.