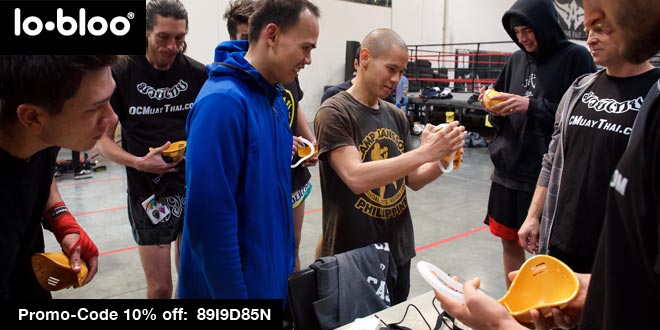 Lo bloo gets 5 stars in my book for the best muay thai kickboxing protection
When I'm training the last thing I want to think about is my gear. Training is all about laser focus. Being in the moment and putting as much energy as possible into the days work.
The gear I wear needs to be an an after thought, it should work how it is supposed to work and provide no other feedback.
For the majority of my experience in Muay Thai and Kickboxing, the Thai Style steel cup was my go too tool. It offered great protection but at a of inconvenience.
When I first got my hands on my LoBloo cup Ill admit I was skeptical. Old habits die hard. But I gave it a shot and it is one I do not regret taking.
Right off the bat I noticed the plastic the cup was made of wasn't flimsy; a characteristic shared by most athletic cups on the market. It was a quality solid construction.
What truly sets the cup apart are the elastic straps that hold it into place. The adjustable straps allow you to find the perfect comfortable fit that holds it into place indefinitely.
Unlike traditional athletic cups that are generically sized and often shift around; and different from the Thai Steel cup that needs to be tied and untied every time; the Aerofit offers the ease and convenience of your traditional jock strap, the superior protection of a Thai cup and with the added bonus of a perfect fit every time.
I slip on my LoBloo Aerofit and it fits perfect and protect so well that I don't even feel a direct shot to the groin.
This keeps my focus where it counts, in my training; and allows me to push harder and longer toward achieving my personal goals.
Amazon has them here and dont forget the promocode: 89I9D85N