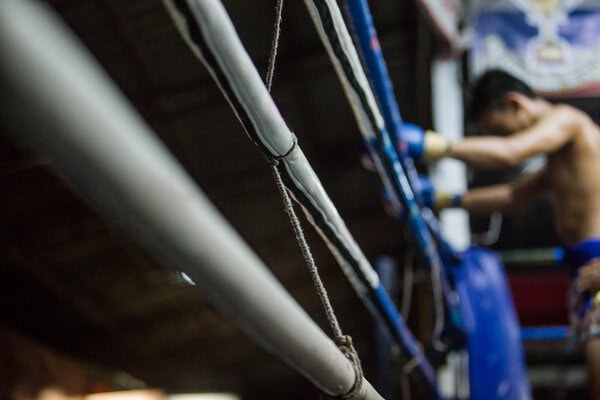 As a discipline, Muay Thai is becoming increasingly more popular among celebrities looking for a new way to train and MMA fighters trying to get an edge. As part of an active lifestyle, Muay Thai can contribute to body-toning, defining and weight loss.
The many physical benefits of Muay Thai are important, but they aren't the only reason to pursue a Muay Thai practice. Muay Thai can also make a positive impact on the psychological and mental state of those who practice it.
Muay Thai training might seem intimidating if you've never tried it. But the truth is, Muay Thai can and should be for everyone.
Below, we're reviewing some of the mental and psychological Muay Thai benefits. Read on to learn how it could help you, and why you should give it a try.
1. Muay Thai is a Positive Way to Deal with Stress Relief
Between busy jobs, a family life and a social life, there is so much that we are all trying to do. The pressure to succeed can get overwhelming. Some days or weeks or even months it feels like everything that can go wrong does go wrong.
Because of the hectic nature of our lives, having an outlet for stress relief is important. It's not productive to yell at your significant other or take it out on your friends or bottle your feelings up. Turning to exercise can help you expend your anxious energy and walk away feeling calmer.
Muay Thai by nature is combat-style work. One of the Muay Thai benefits is that it allows you take out all your stress through an intense, physical exercise. A knowledgeable trainer will guide you through a full body workout of kicking and punching which, if we're being honest with ourselves, is all we want to do at the end of a stressful day.
Imagining that the source of your stress is receiving your blows is a healthy way to deal with those feelings. You'll leave feeling better, and can carry that positive attitude with you through the day.
2. Muay Thai Improves Focus, Concentration and Mental Clarity
One of the unique things about Muay Thai is that the skills you learn are meant to help you in your everyday life. This is especially true of the psychological and mental Muay Thai benefits.
The intensity of Muay Thai requires those who practice it to remain focused on what they are trying to accomplish. In the middle of a fight, there is no way to check out mentally to lose concentration without consequences. In order to be successful, you have to be present and clear.
It can be just as hard, if not harder, to master this mindset as it is to master the physical aspects of Muay Thai. Once you are able to do so, though, you'll realize the ways it helps you throughout your life.
You'll find that you're more focused on tasks, able to concentrate for longer periods of time and more aware of your surroundings than you ever were before. Once your mind is trained to behave in a certain way, there is no limit to the ways that mental state can help you.
3. Muay Thai Is a Way to Boost Confidence
The more you progress in your Muay Thai practice, the more you'll notice a change in your confidence.
To begin with, because Muay Thai is a rigorous and rewarding way to exercise, you'll see physical results from it. If you have weight loss or strengthening goals, Muay Thai will allow you to accomplish them. Feeling better about the way you look and how your body feels gives you more confidence in your overall appearance.
Through a Muay Thai practice, you'll also face a variety of challenges which your trainers and instructors will work with you to overcome. One of the most rewarding feelings is finally being able to do something that you've been struggling with.
With Muay Thai, students experience that feeling all the time. Eventually, you get used to those successes. You begin to realize that there is nothing so difficult that you won't eventually be able to do it. That will be true not only of Muay Thai but of the challenges you face in your daily life.
4. Practicing Muay Thai Can Make You Feel More Secure in any Surrounding
We've all had the feeling of walking down the street alone after dark and feeling a little uneasy. Even if it's a neighborhood where you feel generally safe, you know in the back of your mind that there is the possibility of something bad happening.
Imagine how much calmer you would feel if you knew you could handle anything or anyone who came along. Training in Muay Thai benefits you by giving you that peace of mind.
For most of us, the fighting techniques of Muay Thai will only ever be used as exercise or in regulated, competitive fighting. But if the situation calls for more, Muay Thai can be an excellent form of self-defense.
Knowing you have those skills and that ability to fall back on should help you to feel more secure in any environment. Your mental training will also help you stay calm if a bad situation does arise.
It's the kind of skill you hope you never have to use but are glad to have if the time does come.
Ready to Explore How Muay Thai Benefits You?
From physical strength to self-defense skills to mental focus, everyone who tries Muay Thai can find ways to benefit from it. You don't have to be in the best physical shape to get started and you don't have to fight competitively to advance.
No matter what your lifestyle is or what your fitness and health goals are, there is a style of Muay Thai training that is right for you. It is something all age groups can learn and everyone can benefit from.
For more information about Muay Thai and how to find a training program that is right for you, please explore our site and follow us on social media.