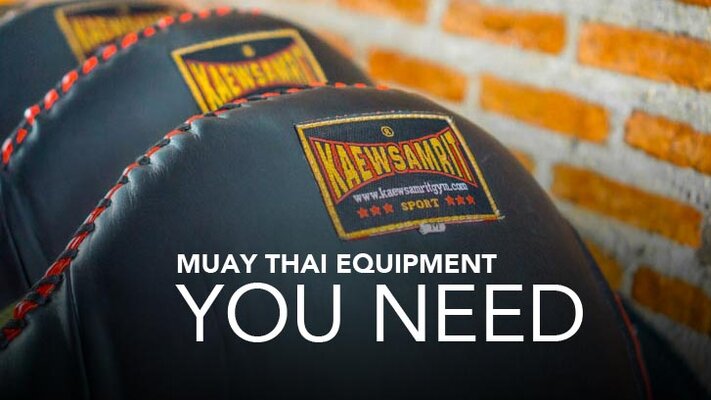 Muay Thai Equipment You Need for Thaiboxing Lessons
You've thought about it for ages, but you're finally ready to channel your inner Rocky Balboa and sign up for boxing lessons. Or, maybe you want to stop being among the 45 percent of women afraid to walk alone after dark. Regardless of your reasons for starting, you need certain Muay Thai equipment to be successful in your training.
Not sure what gear you need? Check out the essentials you should stock up on before your first lesson.
Why Do You Need Muay Thai Equipment for Boxing?
You don't only invest in Muay Thai equipment to look good in the ring (though it does make you look pretty cool!).
Most equipment you need for boxing lessons are to keep you safe, improve your cardiovascular fitness or perfect your technique. Some pieces of equipment can be a bit expensive, so it's tempting to go for lower prices instead of quality — especially in the beginning of training.
Don't fall into the trap! Investing in quality can pay off in the long run, especially in injury prevention.
1. Muay Thai Shorts
You need to be nimble on your feet during boxing lessons, so not just any pair of sweatpants will do.
Athletic shorts and leggings are good options, but it's best to invest in a pair of shorts made specifically for Thai boxing or Muay Thai. Wearing these shorts make you feel like you're about to step in the ring for nine rounds, giving you the boost of confidence you need to dominate your training.
2. Hand Wraps
Professional fighters typically wear tape and gauze to protect their knuckles during their bouts, but fabric hand wraps are perfect for boxing lessons.
Hand wraps — also known as wrist wraps — are typically made of slightly stretchy fabric and help protect your wrists from injury and broken bones when you hit the heavy punching bag or spar with others. Wraps also extra cushioning under gloves to keep your knuckles bruise- and injury-free.
To wrap your hands, start by looping the end over your thumb and then wrap your wrist until you can't bend it easily. Finally, loop the wrap around your fingers individually and secure.
3. Gloves
Boxing Gloves are made specifically for boxing are good for actual fights, but Muay Thai gloves are better for practice because they allow you to open your hands for gripping.
Thaiboxing Gloves come in different weights for use in different situations. You should use 14 to 18-ounce gloves for heavy bag practice or sparring; a pair of 16-ounce gloves is the perfect weight for beginners. More experienced fighters own at least two pairs of gloves: One for pad work and the other for sparring and heavy bag punches.
4. Mouthguard
More than one-third of all dental emergencies are caused by sports injuries, so using a mouthguard during your boxing lessons is one way to avoid being a statistic.
You can get one-size-fits-all mouthguards at most sports stores, but your best bet is to invest in a custom piece that's made from a mold of your teeth. A custom mouthguard might set you back $100, but it's an essential piece of Muay Thai equipment — and it beats spending thousands on fixing broken teeth.
5. Jump Rope
Going toe-to-toe in the ring requires the kind of stamina you can only get from cardiovascular workouts. Jump ropes, also known as skipping ropes, are the perfect tool to get you in this tip-top shape.
Unlike other cardio workouts (like running), jump rope can be done anywhere regardless of weather conditions. You can get in a strenuous workout in only a few minutes with a jump rope — and it can help you improve your footwork, balance and agility, too.
6. Ankle Wraps
Don't underestimate the power of sturdy ankle wraps.
Boxing requires you to be on your toes and quick on your feet, so giving your ankles a little extra protection can mean the difference between completing your lessons or losing your balance. Ankle wraps provide the extra stability you need to be confident on your feet for not a lot of money, so you can have multiple pairs.
It's important to try on your ankle wraps before buying them. The reason: A too-small pair can cut off the circulation on your ankles, making them go numb. Buying too-large ankle wraps aren't a good idea either, because they don't give you compression and support.
7. Headgear
Concussions can happen in any sport, including boxing. You don't have to let that risk keep you from practicing, though. Instead, invest in headgear made specifically for boxing.
Boxing headgear provides a little extra padding to protect your noggin from hard punches during sparring or a fight. The padding helps soften the impact so you won't feel a direct hit, but you'll still know it happened (it just won't hurt as bad!).
8. Focus Mitts
Hitting the heavy bag is great, but the weight doesn't require you to be nimble on your feet. Focus mitts, on the other hand, help you learn agility and technique without having to physically spar with another fighter.
For training purposes, one person wears the mitts and calls out combinations (like jabs and uppercuts) while the other person throws the punches. The pads absorb the impact of the punches so there's little risk of injury.
9. Training Bag
Having all of this equipment can really take your boxing lessons to the next level, but how do you transport it all to class? With a training bag designed specifically for boxing equipment. The best training bags offer ample space for all your equipment, along with easy-access bottom compartments for your gloves and wraps.
Learn from the Best
Now you know the Muay Thai equipment you need to be a boxer, but where can you get lessons?
Our programs are designed for everyone from children to adult beginners and experienced fighters with a variety of class times to fit even the busiest schedules.
Drop in at our Seal Beach, Orange County, CA, locations, or visit us down south in Dothan, AL. We'd love to show you around and give you a free pass to try us out for yourself.