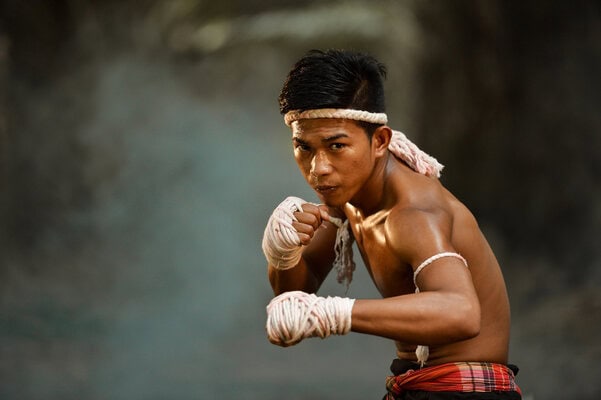 When you think of martial arts, perhaps Chuck Norris or Bruce Lee come to mind.
But Muay Thai is a noble martial art and is also a great way to exercise and build focus.
It is also known as the martial art of the 8 weapons.
8 weapons! That seems like a dangerous form of martial arts.
Is it safe?
Is it hard?
Here's what you need to know about Muay Thai:
What is Muay Thai?
Muay Thai or Thai boxing is a martial arts form that got its start in Thailand.
Muay Thai was invented around the mid-16th century when Siam and the Burmese were at war with one another. It was designed to have the human body replace certain weapons of war that were popular at the time.
A lot of the history of Muay Thai was lost during that time when the Burmese army destroyed Ayutthaya.
since then, the martial art of 8 weapons has been used as a sport and martial art form ever since.
In fact, Muay Thai is so revered in Thailand it's considered the king of sports.
This type of martial arts is also popular all over Southeast Asia and is growing in popularity worldwide.
What are the 8 Weapons of Muay Thai?
Muay Thai is often referred to as the "Art of 8 Limbs".
9 limbs were used in its original form but the headbutting is no longer allowed in fighting for safety reasons.
In regular boxing, the fighter only uses their fists or 2 limbs.
In most other martial arts forms, only 4 points, (fists and feet) are primarily used.
It is considered more comprehensive and brutal than most martial arts.
What are the Boxing Moves?
It's hard to decide if a sport is right for you if you don't know what it looks like.
To start with, there are 2 formal types of techniques:
Mae Mai or advanced techniques and Luk Mai or basic techniques.
Here's a list of moves that Muay Thai include:
Boxing Moves
Basic: Jab, Cross, Hook, Straight Body Punch, Hook to the Body, Uppercut, Overhand Punch
Advanced: Spinning Back Fist, Superman Punch
Kicks
Basic: Body Kick, Low Kick, Head Kick
Advanced: Straight Kick, Half-Shin/Half-Knee Kick, Axe Kick, Jump Kick, Step-Up Kick
Push Kicks (Teeps)
Basic: Straight Teep (Front), Side Teep, Rear Teep (Back)
Advanced: Jumping Kicks, Slapping Kicks
Knee Techniques
Basic: Straight Knee, Diagonal Knee, Side Knee, Curving Knee
Advanced: Jumping Knee, Flying Knee, Step-Up Knee
Elbow Strikes
Basic: Horizontal Elbow, Upper-Cut Elbow, Slashing Elbow, Forward Elbow Thrust
Advanced: Backwards Elbow, Downward Jumping Elbow, Spinning Back Elbow, Diagonal Elbow, Downard Elbow Chop, Reverse Horizontal Elbow, Double Chop Elbow
Clinching Techniques
Front Clinch, Side Clinch, Arm Clinch, Low Clinch, Throws
Defensive Techniques
Avoiding, Parrying, Blocking, Disruption, Catching, Anticipation, Countering
What are the Mental Benefits?
While 8 weapons might leave some people thinking it's just an intense sport, there are some great mental benefits.
Discipline: In order to become good at using Muay Thai, great discipline is required.
Mental Peace: Many women and children are drawn to this sport to help them feel safer and more secure from would-be attackers.
Relieves Stress: Both the physical exercise and the mental focus will help you relieve stress and feel calmer.
Self-Assurance: Teaches people how to feel safe and secure in their own bodies.
Self Awareness: Helps people become more aware of themselves and their environment.
Patience: It takes some time to master a new technique and become a master at each level.
Compassion: Practitioners of the sport learn great compassion for the world around them.
Confidence: Instructors of this sport tend to focus on your strengths while being rewarded for doing well.
What Will 8 Weapons Do to My Body?
Muay Thai seems like it would only be for hard-core fighters.
Not so.
A typical beginners class includes:
Stance
Footwork
Basic Punches
Kicks
Knees
Elbows
Other Defense Techniques
There are also usually pre-workout warm-ups as well as stretching.
In as little as 2-3 weeks students will start noticing positive changes to their body, including weight loss.
Many people also start noticing strength and flexibility around the same time.
Muay Thai As a Sport Looks Intimidating. Can Anyone Do It?
Yes, any sport known for using 8 weapons is bound to be a little intimidating.
Here are some things every beginner needs to know:
You Don't Need to be in Shape to Start: Every time you start a new exercise, it will be hard. Luckily, this is a skill-based sport. The harder you try and the more you do it, the easier it will get.
You Will Most Likely Be Terrible at it: At First. With practice, it will get easier. Find a gym where there are newbies to the sport and has instructors who encourage, not discourage you.
You Don't Have to Fight: Or even spar. If you've found the right place, no one will care, either. And you're not alone, only crazy people and/or fighters enjoy being punched in the face. Find a gym that lets you be you.
You Can Stick to the Basics: If you've found the right gym or instructor, they will let you go at your pace.
Asking questions and finding a gym that will allow you to focus on your goals will help you get the most out of your Muay Thai workout.
Lastly, make sure you are equipped with the right gear to make the most out of your 8 weapons work-out.