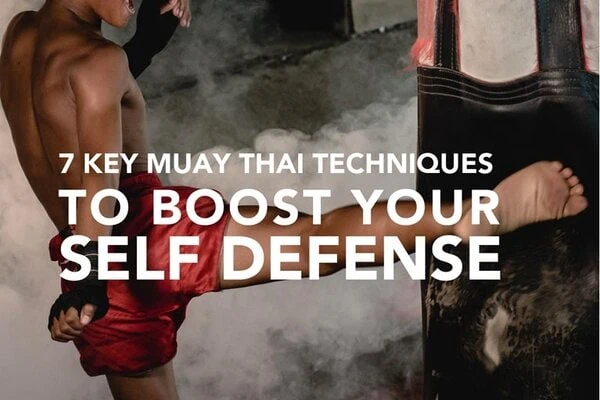 There are many reasons you might find yourself attracted to Muay Thai, the art of kickboxing from Thailand. Muay Thai is thrilling to watch and challenging – but rewarding – to practice.
Thai kickboxing is a great way to get in shape. Plus, practicing a martial art can help you boost confidence which in turn leads to success in other areas of life.
Maybe you've been drawn to it for purposes of self-defense. In that respect, Muay Thai can be extremely effective.
If you want to learn how to master the Muay Thai techniques that will keep you safe in a tough situation, we've got seven moves you need to know!
A Break Down Of Basic Muay Thai Techniques
Before we get into the specifics, let's get a bit a general information out of the way. Muay Thai is known as "the science of eight limbs".
Here's why – in regular Western boxing, only fists can be used. That's two limb, or two point, fighting.
Other kickboxing or martial arts allow for four points – two fists, two feet. With Muay Thai, your arsenal opens up to eight points.
Muay Thai allows you to use your two fists and two feet plus your elbows and knees. You were once allowed to use your head but for safety reasons, it's best to keep that out of the equation.
As you can see, taking on Muay Thai gives you so many more options. That allows you to up your self-defense game in a big way.
Now let's move on to the specific Muay Thai techniques that you'll want to learn to stay safe.
1) The Best Offense Is A Strong Defense
As a martial artist, you know that besides sports and competition, you only use your powers as a last resort. You have a lot of strength on your side; don't start fights.
That being said, you might find yourself in a situation where your opponent comes out swinging. While you may be tempted to give as good as you get, the best offense is a strong defense.
Don't neglect practicing blocking techniques. You can spare yourself and even your aggressor a lot of pain if you know when to use a shin to block a kick or how to redirect a punch.
2) The Right Kick
The image most people have of Muay Thai is of a boxer executing an incredible roundhouse kick. Here, your body rotates and your leg sweeps your opponent.
While that looks great in movies, it's one of the hardest Muay Thai techniques to execute in real life.
Your foot is made up of many small, complex bones that are easy to break. Do yourself a favor and learn smaller, more effective foot jabs instead of powerful kicks.
You won't be able to defend yourself with a broken foot. Focus on keeping your kicks tight and powerful.
3) Master The Clinch
In Thai kickboxing, a clinch is a move where the boxers are grappling while standing. This happens frequently in Muay Thai and is a good move to learn for self-defense.
Regular boxing has referees that will break up a stand up grappling match. In a street fight, you won't see any striped jerseys anywhere.
This is why it's essential to learn how to get out of a clinch or work it to your advantage. Practice in the martial arts gym to be prepared for the real world.
4) Throwing Elbows
Find yourself in a clinch? Your elbows are your best friends in this situation.
Unlike your delicate hand and feet bones and sensitive knees, elbows, when used correctly, can be as hard as a hammer.
A well-timed blow to an opponent's jaw or temple can render them unconscious. When you're in a dangerous situation, take the opportunity to use your elbow.
5) Redirect with a Punch
Unlike other forms of boxing, when you learn Muay Thai techniques you'll discover that punches are defensive instead of offensive. Punches are commonly used in Muay Thai to block an opponents strike or re-direct their punch.
A punch in Thai kickboxing is more than a straight shot. You'll use more parts of your body to execute it correctly.
As such, they are very powerful in throwing your opponent off and redirecting them. Coupled with the element of surprise, your punches could be the best tool you've got when up against someone using only their fists.
6) Getting The Most Out Of Kicks
Here's a trick that's really helpful in any self-defense situation: make sure you can execute more than one kick at a time.
When you're learning the proper technique, you will most often return to a squared up position. In a real fight, this isn't of much use.
Train your brain to think about how to get the most out of your kicks. See what position you can put yourself in to be able to kick again instead of fighting to regain your balance.
7) Practice, Practice, Practice
This might seem like kind of boring advice, but consider this: your opponent isn't going to go easy on you.
If you find yourself in a dangerous situation, your attacker won't play by the rules.They're not going to give you a "do over" or allow you a moment to regroup.
You need to be on top of your game and know how to react in a myriad of different situations. The only way to do that is to practice.
Spar with other Muay Thai practitioners. Ask your trainer for advice. Challenge yourself and most importantly, keep learning.
Stay Safe With Muay Thai
We never want to see you in a situation where you're in danger. But if it happens to you, at least you'll be more prepared after reading our seven self-defense tips.
Just as we mentioned before, Muay Thai is great in many aspects of your life. Plus, it's great for all ages, genders, abilities, etc.
To keep learning and dive deeper into the world of Muay Thai techniques, sign up for our newsletter and keep reading our blog!