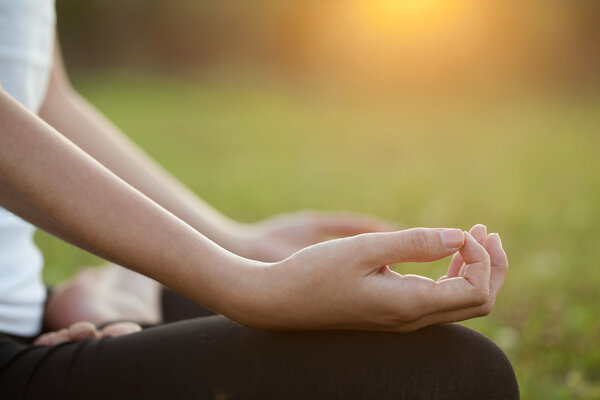 If you're getting into the practice of Muay Thai you're probably thinking that your foundations should be aggressive.
It's natural to think that a combative sport would find its source in some kind of aggression or release of tension. While there is an element of combat involved in getting started, the real focus should be on your concentration.
Martial arts are often complemented by the use of meditation to increase focus. You have probably heard of meditation practices but may not have been introduced to them formally.
This guide will help you to begin your practice of meditation. Dedicated effort will bring you closer to your Muay Thai practice, and you may find that the benefits of meditation extend out into your life at large.
A Beginning Guide to Meditation Practices
Meditation is an ancient practice with a large variety of schools and styles. There is a unifying principle among meditation practices, though, and it is that the intention should be to focus one's mind and improve their general well-being.
How Should You Begin?
When you start to meditate, keep in mind that it is a practice.
Just like learning an instrument or training for a sport, you are not going to be excellent right off the bat. Meditation involves a challenging engagement with one's own mind, and the results of dedicated focus can often be exhausting.
Who would have thought that sitting and breathing could be tiring?
Start by finding a comfortable pillow to sit on or a chair that allows you to have good posture. Find an environment that is comfortable and holds little distraction.
The preferred method on a pillow is to sit cross-legged with your back straight.
You want your spine to be comfortably balanced so that there is no strain on your back while you're sitting. Imagine a little string pulling the back of your head upward and your tailbone downward.
If you're in a chair you can do the same exercise with your head and tailbone while sitting upright with your hands at rest. It's common that people make the "OK" sign with their hands while their arms lay on either side of their knees. This is not required, it's just a common trope of meditation imagery.
Breathing
Meditation is divided into two important categories– breathing and thoughts.
You should start with your breathing, as it is the easier thing to master when you're starting out. Start by breathing in deeply, in and out, in a way that feels comfortable and smooth.
With each in-breath, focus on your stomach and the air it is taking in. Breath in until your stomach reaches a comfortable point, then allow your breath to naturally move back outward.
On the out-breath, do the same thing, focusing on the air that is exiting your lips. It may seem simple, but this is the foundation of meditation. Breathing in and breathing out.
The breath is utilized because it is the most natural, semi-automatic process that your body uses. You have control over your breath, while it also has control over you. By focusing on your breath you give your mind something to concentrate on in the absence of extraneous thoughts.
That leads to the next category– thoughts.
Thoughts
While you're concentrating on your breathing you will likely find that your mind wanders. This is a totally natural thing, as our mind is constantly shifting from thought to thought in our every day lives.
The ultimate goal is to remember that you want to focus only on your breath, and any extra thought is a distraction that your mind produces. By doing this you can learn to observe your thoughts and not become wrapped up in them.
Think of yourself as someone sitting in a movie theater. The images on the screen are your thoughts passing through your mind. They don't need to be engaged with or ruminated over because you have dedicated this time to meditation, focusing on your breath and not your thoughts.
Doing so will allow you to notice the nature of your thoughts. You'll find that certain things come up over and over, often with no reason for being there in the first place.
This is another reason that meditation is difficult; sometimes your thoughts reveal a lot about yourself.
Handling Emotions
Meditation is an excellent practice for anyone playing a sport or engaging in martial arts because the same emotional triggers come up in both practices.
You will find that certain thoughts demand your attention, often holding deep emotional significance. These are the thoughts that will linger while you are in a competition or match with an opponent.
If you're experiencing a lot of distractions while meditating, it may be useful to keep a journal at your side throughout the process. Jot down any recurring thoughts that are too intense to avoid.
Putting them down on paper will assure you that you can revisit the idea later, allowing you to get back to focused meditation. Dedicate a half an hour or so each day to think about the things that you've realized during meditation.
This will help you to sort out troubling problems, as well as give you a cleaner, healthier practice of mediation.
How Long Should You Meditate?
Start by doing just 5-10 minutes a day. Keep doing this for a week then bump it up to fifteen minutes. This may seem short now, but you often lose track of time and get uncomfortable in the middle of a meditation.
Your body and mind are not used to the focused energy that mediation generates, and you won't be able to go for too long when you begin.
Read More on Meditation!
Meditation is an ancient practice, typically involved with spiritual practices and martial arts. It's been around so long that there is a huge wealth of literature dedicated to it and it's different versions.
If you're interested in meditation practices and the benefits that they can have on your life, pick up a book and start reading up on how to live a more focused life.