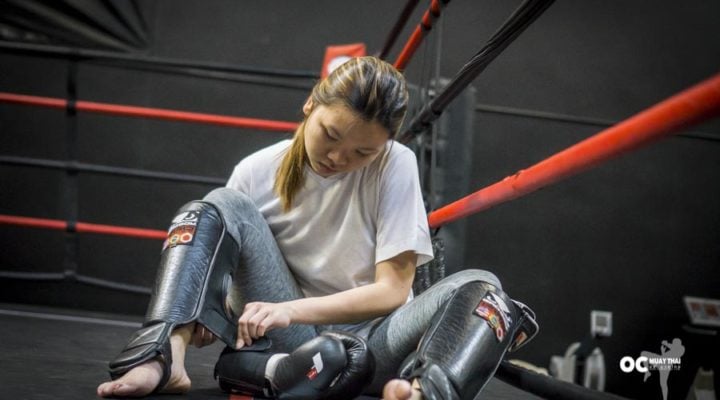 Tie It All Together
Due to the growing popularity of the Ultimate Fighting Championship (UFC), martial arts and mixed martial arts have also followed suit. An important skill all mixed martial artists must know is the art of Muay Thai, which uses the 8 "limbs" to strike and clinch an opponent.
Although you might be able to get away with wearing regular, athletic clothing when you first start training, you'll eventually need to come prepared with the right Muay Thai gear. This gear will be essential for your protection, both during training and afterwards in recovery.
Keep reading to learn the 5 items you'll need to bring to each Muay Thai class.
What is Muay Thai?
Muay Thai, also called Thai kickboxing, is the "art of the 8 limbs." These 8 limbs, or "weapons," include the fists, elbows, knees, and shins.
This is different from boxing (which uses 2 points of contact—the fists) and kickboxing (which uses 4 points of contact— the feet and fists). At some point, 9 points of contact were used for Muay Thai, but headbutting has since been outlawed.
The martial art originated in Thailand during the middle of the 18th century, when the Burmese and the Siam were at war. A famous Siam fighter was able to knock out ten Burmese opponents and received praise for his technique. Instead of being held as a prisoner, the fighter, Nai Khanomtom, was freed. His fighting style eventually became the national sport of Thailand.
Why is Muay Thai so Popular?
Muay Thai is popular for many reasons, but here are just a few:
The ability to excel in the martial art and advance to competitions
The usefulness of the techniques as self-defense
Stress relief
Teaches self-confidence
Promotes self-awareness
All of the health benefits of regular exercise
When Can I Start?
You can start Muay Thai at any age, provided that you are in good health and do not have any musculoskeletal issues that would prevent you from training.
Of course, if you're looking to become a professional or even compete locally, it would be best to start at a younger age. However, this is definitely not a requirement, and you can enjoy the mental and physical health benefits of the sport at any time.
Muay Thai can be intimidating at first, and you may be worried you're not in shape or don't want to take it to a combative level. Thankfully, you can adjust your training.
While you may not be in perfect shape or even really coordinated when you begin, you'll certainly improve over time. This martial art is skill-based, so the more you practice, the better you will perform.
Muay Thai is also flexible. If you don't want to fight or spar, you can find ways to train without hitting people or being hit. You can also stick to the basics and go at your own pace until you master a technique. Just be sure to find a gym that works best for you.
What Muay Thai Gear Will I Need?
Besides Muay Thai gear listed below, you'll need your basic exercise wear.
Muay Thai artists typically wear loose Muay Thai shorts. These are available in beautiful patterns and are made of 100% satin.
These allow you the flexibility to move your knees and shins with ease. Many martial artists wear athletic underwear below the shorts since the shorts tend to ride up during training.
However, you can wear whatever you feel most comfortable in, especially during the first few classes as you adjust.
Here are the 5 items of Muay Thai gear you'll also need to bring to each class.
1. Bag Gloves
These are gloves you will use to practice techniques on a punching bag. You'll want them to be comfortable and provide protection from the rough material of a punching bag.
Look for 14oz or 160z gloves, and know that extra padding will make it more comfortable and reduce damage to your fists.
2. Shin Guards
Shin guards should always be worn when sparring to prevent any shin and foot injuries. There are typically two different versions of shin guards worn during Muay Thai training.
Some opt for shin guards that fit like a sock, but those provide less protection. Traditional martial artists wore shin guards made of leather that covered the shins and feet and provided ample protection.
3. Hand wraps
Hand wraps are important to provide extra protection to your hands and especially wrists. When training with a heavy bag, hand wraps help support the wrist and prevent any injuries.
Another added benefit is if you plan to use lighter bag gloves, you can supplement them with a hand wrap for added protection from the bag. Wearing them underneath gloves can also prevent smelly gloves, as the wraps are washable.
Look for hand wraps that are slightly elastic with some flexibility to them.
4. Mouthpiece
If you plan to do any sparring or clinching at all, a mouthpiece or mouthguard is essential. Losing teeth is not something you want to experience, and it can deter you from continuing training.
When it comes to a mouthpiece, you can use a traditional boil and bite method, where the guard molds to your teeth for a close fit. For an even better fit, you can purchase a custom-fit mouthpiece, which is made based on an imprint of your teeth.
Be sure you can breathe properly when wearing a mouthpiece and that it provides a comfortable fit and great shock absorption.
5. Sparring Gloves
Muay Thai sparring gloves allow you to open your hands and grip an opponent during a clinch. Again, 16oz sparring gloves often work best for beginners, providing plenty of protection both for the striker and the sparring opponent. Anything less than 14oz can knock out an opponent, and should generally be avoided.
Final Thoughts
Training in Muay Thai is a great way to learn self-defense, build confidence, and get into shape. Because you use mostly your own body to train, there isn't a lot of required Muay Thai gear. For proper protection, you'll usually just need a mouthpiece, two pairs of gloves, shin guards, and hand wraps.
For more information on Muay Thai, including tips, techniques, and more, visit our blog today.