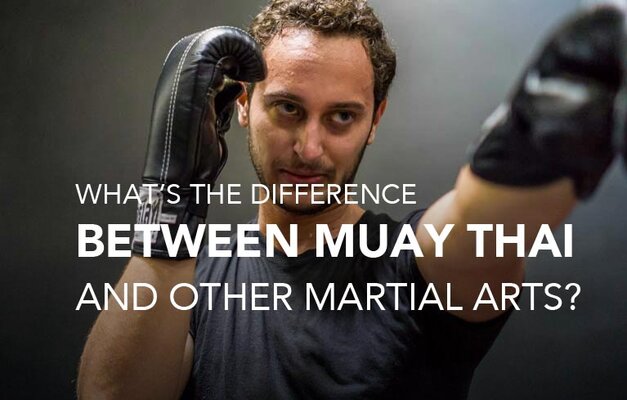 Muay Thai Classes vs. Other Martial Arts Classes
Are you thinking about signing up for Muay Thai classes?
If you've never done it before, you might be confused as to what Muay Thai is. Is it kickboxing? Boxing? MMA? The truth is, it's like no other sport you've ever seen.
In this post, we'll explain exactly what makes Muay Thai different, and what you can expect to learn at our gym.
Why Muay Thai Classes are Different
If you're not quite sure what Muay Thai is all about, read on to find out what sets it apart from other fighting styles.
Tradition
When you join Muay Thai classes, you don't just learn how to kick and punch. You also learn about the rituals and tradition of the sport.
Since the sport originates from Thailand, a country rich with Buddhist culture, it's unsurprising that many spiritual traditions have spilled over into the ring. One of those is the wai kru ram muay, the dance boxers do before a fight.
It symbolizes respect and honor for the country, the king, and for your trainer. It also allows the fighter to display their own unique flair and style, as well as getting some stretching, too.
Traditions like this one are a big part of what attracts people to the sport. The opportunity to learn something cultural and spiritual is appealing to many people who are looking for more than just a workout.
History
Muay Thai has a rich history, dating back hundreds of years.
It stems from Muay Boran, which directly translates to 'ancient fighting style'. Originally, it was used by Siamese soldiers to defend the country, and as time went on, rules and regulations were introduced to make the sport what it is today.
One of the most famous stories in Muay Thai history is the legend of Nai Khanom Thom, a Thai fighter who defeated ten Burmese boxers in one day in the 1700's. Statues paying tribute to him can be found around in Ayutthaya, as well as in certain gyms and stadiums around Thailand.
Respect
Respect is a huge part of Muay Thai.
When people imagine combat sports gyms, they often picture macho spaces full of aggressive guys looking to beat each other up. This generally isn't the case with Muay Thai. This is because respect is so integral to the sport.
In Muay Thai classes, it's important to respect not only your instructors but your training partners. Respect even applies to your equipment. In Thailand, fighters 'wai' (bow) to their instructors, but also to bags before they start to hit them, and to the ring before they enter it.
Respect for your teacher is crucial. In fact, there is a huge annual 'wai kru' festival in Thailand where Muay Thai fighters gather to pay respect to their teachers.
Of course, you often find egos in Muay Thai gyms, just as you do in any other workout space. However, they are usually weeded out by this aspect of training.
A Wider Range of Techniques
People often mistakenly refer to Muay Thai as kickboxing. They may look similar to someone who's not familiar with combat sports, but in fact, they're worlds apart.
Kickboxing only allows you to use your hands and feet. In Muay Thai, you have a wider range of weapons to use. You can punch, kick, elbow, and knee. Not only that, but you can wrestle, too.
This doesn't mean grappling on the ground like Brazilian Jiu-Jitsu or doing WWE moves. In Muay Thai, you have clinching. This involves using the arms to grab and control your opponent, striking with knees, and using your feet to trip them over.
These techniques are especially useful if you find yourself having to protect yourself on the street. In Muay Thai classes, you can learn Muay Thai clinch techniques for self-defence, which will enable you to get out of a grip safely and effectively.
Scoring
Muay Thai scoring is complex and often difficult to understand. This is not only because there are so many different types of strikes and techniques, but because they aren't scored evenly. For example, in traditional Thai scoring, kicks are favored over punches.
Also, effectiveness is more important than the actual number of strikes landed. You could land a really hard kick, but if your opponent doesn't seem affected, it might not score. Plus, if they catch it and trip you to the ground, they could neutralize it.
The style is important, too. In the West, aggression is favored. However, in Thailand simply being aggressive isn't enough. You need to be effective, cause damage, and do it with beauty and grace.
This is a source of irritation for many Western fighters who compete in Thailand. Many of them charge forward with punches while their Thai opponents fight backward and kick.
When the fight is over and their hand isn't raised, they often feel as though the decision was unfair. It all comes down to a misunderstanding of the scoring system.
Sounds complicate, right? Don't worry, when you join Muay Thai classes regularly, you'll learn the ins and outs of the scoring. Then, you'll know how to use it to your advantage, whether or not you want to compete.
Light Sparring
One thing that makes people hesitant to join Muay Thai classes is the idea of sparring. When you've never done it before, it can be intimidating. However, it doesn't have to be.
In Muay Thai, playful, light sparring is most commonly used. By not using full speed and power, students can practice on each other without the danger of getting hurt. This is one of the reasons why there is a higher risk of head injury in Western Boxing.
Try it for Yourself
Now that you know how Muay Thai is different from other combat sports, the next step is to try it out!
Sign up for a free beginner's class trial to see how you like it. We guarantee that you'll feel empowered, get a great workout, and learn some useful techniques, too. Most importantly, you'll have a great time.